Living Treasures of the Snowy Mountains
Contact Mick to order a copy of Living Treasures today!
Mobile:

0448 980 099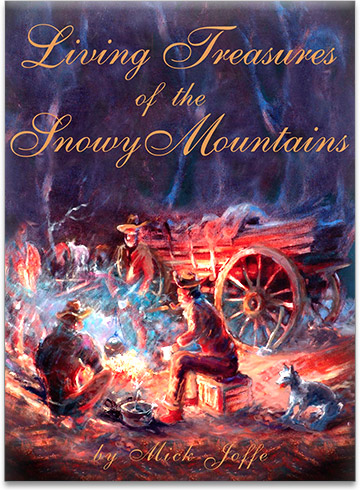 Intrepid Aussie caricaturist, Mick Joffe, after packing his swag and his recording pencil, headed off to the Snowy Mountains, to 'Joffe' a fast vanishing generation of Monaro men and matriarchs. Here, captured in word and caricature, some of Australia's best and most venerable elders, salt their reminiscences with a special brand of wisdom and humour, while describing the rustic, rugged lives they have led. Some even ventured to address the oft-asked question; "Who was the Man from Snowy River?", the eponymous hero of Banjo Paterson's famous poem, first published in 1890. Enjoy the words of real pioneer Australians, in their own vernacular, carefully and accurately recorded, celebrating a fantastic legacy of lives that helped establish the Snowy Mountains Scheme, the skiing industry and ran mountain cattle and sheep. Endangered characters of Australia, living relics of their time, collected from all walks and many countries, farmers, doggers, diggers, entertainers and engineers to politicians. Read the actual words of these genuine people, shared honestly and openly, who lived their often difficult lives - while building a tradition of bush community. A tradition still vibrantly alive and thriving today. Their memories will take you 'down the rabbit hole', into a world of magical experiences and reminiscences, unique to the wonderland of Australia's Snowy Mountains. Beware! Their experiences are funny, heartfelt, varied and sometimes confronting, born of the tough times and places they have lived. Their simple wisdom, homilies and attitudes will capture your heart. This book highlights a unique slice of history, seen through the participants own eyes, captured just in time, by one of Australia's most prominent caricaturists. Mick's own quirky and irrepressible sense of bush humour also permeates every page. A fitting tribute to the Snowy Mountains region and the exceptional people it has bred. This extraordinary treatise will stand the test of time and remain a source of history and humour in many an Australian home. You will bless the day you took home this tome!
Contact Mick to order a copy of Living Relics today!.
Phone:

(02) 9987 1141

Mobile:

0423 918 938