Living Relics of Australia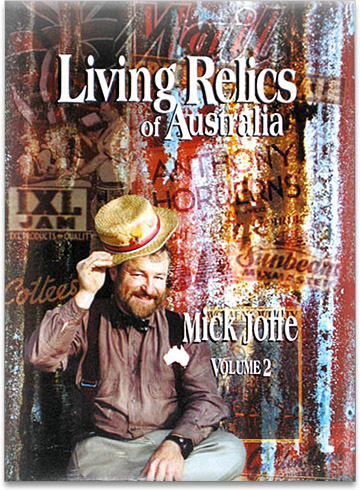 Living relics contains 25 of our greatest living characters. This coffee table hard-cover book combines the very Australian art of caricature with oral history - the history of drovers, shearers, naturalists, miners, artists, explorers, etc. Their caricature captures them on the outside and their own words capture them on the inside.
Contents:
Ann Randell - Remembers the Emden
Lewis Howell - of the Kings African Rifles
Colleen Clifford - Grande Dame of Show Business
Jack Lockett - Australia's Oldest Man
Kathleen Lenthall - Remembers Federation
Harold Fletcher - Antarctic Days with Mawson
Frank Maynard - Remembers Rescuing Titanic Survivors
Eileen Fitzer - Northern Territory's Oldes Pioneer
Reverend Fred McKay - In the Footsteps of John Flynn
Nancy Bird - Our Pioneer Aviatrix
Bob McMillan - Designer of the War Memorial
Ron and Valerie Taylor - Undersea Adventurers
Gordon Andrews - Designer of our Currency
Sid Hawks - The Ancient Mariner
Sister Bullwinkel - Survivor of the Banka Island Massacre
Reg Weston - Donkey Teamster of the Kimberleys
Smoky Dawson and Dot - Country and Western Legend
Bill Harney - Aboriginal Elder and Storyteller
Vince and Carol Serventy - Great Australian Naturalists
Ringer Edwards - Crucified by the Japanese
Contact Mick to order a copy of Living Relics today.